JULY 2020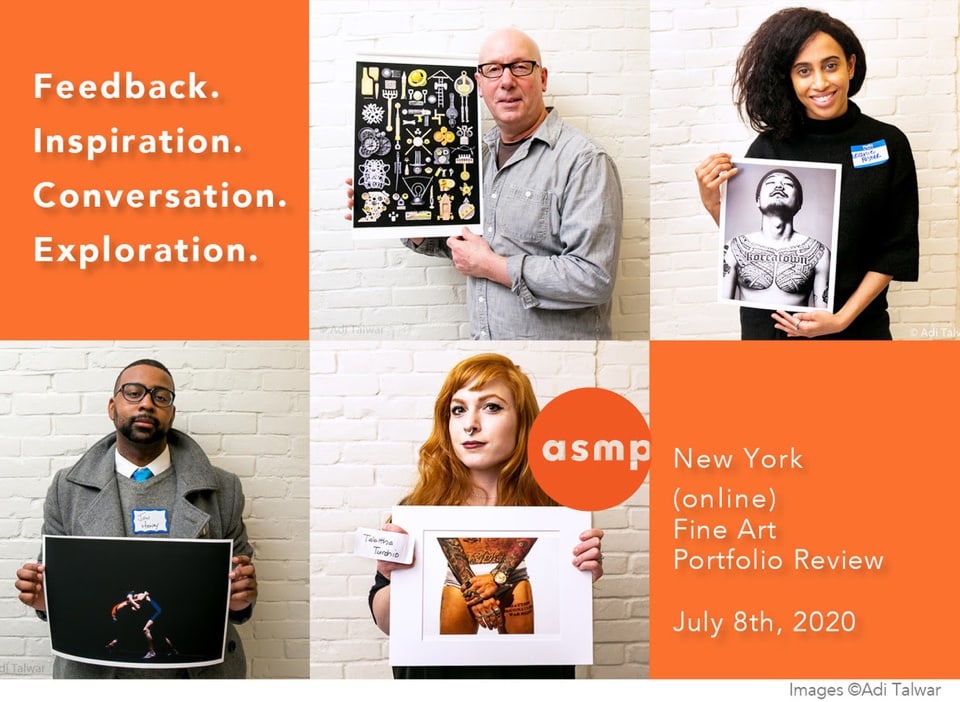 I am delighted to be reviewing fine art portfolios for the ASMP New York Chapter on July 8!
ASMP New York will be hosting its 15th Annual Fine Art Portfolio Review online. If you are a member, and would like to participate, the link to register is below. As always, the ASMP NY Fine Art Portfolio Review is a free benefit, for members only. (If you are not currently a member, but interested in joining the New York chapter, please visit their website here: https://store.asmp.org/store/items/list/group/469 )
PLEASE NOTE:  This is a pilot program, so bear with them as the program is migrated to an online format. This will be a smaller review and will be a little different than usual (for obvious reasons). With luck, this experience will prove to be a "model" for future online portfolio reviews.
Program details are below and pre-registration is at
https://form.jotform.com/ASMPNY/signup
Pre-registration puts you on a list to receive the official review sign-up form on July 1 and allows you to request up to four (4) of your desired reviewers in advance.
By pre-registering you will automatically receive the official sign-up form on July 1, 2020, at 8 am EST. Organizers will do their best to get everyone their top reviewer choices. Your patience is appreciated as ASMP NY works toward moving some of their larger programs online.
Timeline
NOW: Sign Up Here : https://form.jotform.com/ASMPNY/signup
to be placed on a list to receive the review signup form.
Wednesday, July 1st: Form opens at 8am, and ASMP members will be able to sign up for reviewer slots.
Tuesday, July 7th: Final email showing a schedule. Please review the schedule and familiarize yourself with Zoom functions, as you will be meeting each reviewer on their personal account.
REVIEWS Wednesday, July 8th: 6-8pm event EST
I will be joining a wonderful group of reviewers and understand that the list is growing! Currently on the list:
• Alexandra Corbin Director/Owner Gallery Small
• Sherri Nienass Littlefield – Curator, Director treat gallery, Former Director Foley Gallery, ClampArt
• Elizabeth Brady Robinson – Photo Editor BMore Culinary (Baltimore
• Pamela Jean Tinnen – Curator and Exhibits Coordinator, NYU Kimmel Gallerie
• Thomas Werner – Author, Speaker, Program Director at Parsons School of Design, Editor IRKmagazine
• and me, Jennifer Stoots – Certified photography & art appraiser + art market consultant
ONGOING
The Most Talented People in the World
In an effort to provide students and recent graduates with practical information, TMTPW.com has an archive of interviews with mid-late career professionals who have been asked about their education, the changes they are seeing in their industry and what advice they would give to students who ultimately want to work in their field.